The Institute's new campus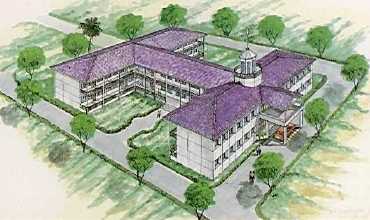 In 1996, the Institute shifted from Tiruvanmiyur to its spacious new campus in Chemmancheri. The inauguration ceremony of the building was presided over by Justice V.R. Krishna Iyer and the new building was inaugurated by the President of the Nippon Foundation, which had extended financial support for the construction of the new campus.
The seven-acre campus in Chemmancheri (16 km south of the Chennai Corporation) is rapidly expanding its facilities to meet the anticipated growth of the Institute's needs. There are plans to acquire an additional 14 acres of adjoining land in the future. Today the Institute is a recognized leader in the application of information technology to the field of Asian Studies.
Recently the Institute acquired two acres of choice land in Kanchipuram to launch a Bodhidharma Centre for Indian Philosophy, named after the South Indian Buddhist monk who traveled to China in the 8th century AD and started the Ch'an (Japanese Zen) school of Mahayana Buddhism.