Growth of the IAS
In 1982 the Institute became a registered body. From that year, the IAS began to function as a full-fledged educational Institute. To start with a programme of work was drawn up which included the following:
Conducting classes for the study of various languages
Bringing out an Encyclopaedia of Tamil Literature
Publishing a handbook of Asian Studies and
Publishing a bi-annual Journal
The year 1984 saw the blossoming of three full-fledged research departments, Tamil, Kannada and Japanese. This was followed by the starting of the Departments of Manuscriptology, Telugu, Buddhism and Folklore. Today the Institute can boast of the following departments which have made considerable scholarly contributions:
| | |
| --- | --- |
| Tamil Studies | Manuscriptology |
| Kannada Studies | Telugu Studies |
| Buddhism | Folklore |
| Japanese Studies | Translation |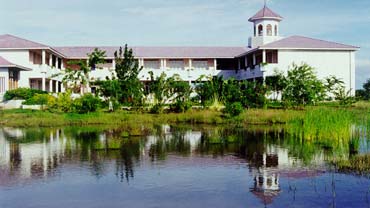 These Departments have to their credit many publications. Including the 27 staff members active in Library Services, the computer section and the Publications Division, the total faculty and staff of the IAS now currently numbers 60.
The Institute of Asian Studies has in recent years attracted research scholars from all over Asia, Europe and America, enabling them to conduct their designated research projects in Asian languages and literatures under one roof with support facilities, a faculty of senior academicians, digital interconnectivity with the global village community and ideal accessibility to the heartland of South Indian culture.
It is therefore not surprising that the IAS has undergone rapid expansion to become an internationally-recognised centre promoting inter-disciplinary investigation of the literary and cultural facets of pan-Asian culture.