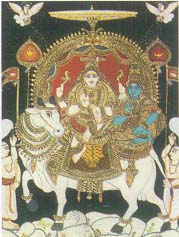 The Panniru Tirumuraikal Department came into existence in the beginning of 1997, with the specific purpose of translating the canonical literature of Saivism of Tamil Nadu. The religious literature consists of twelve Holy Books, collectively called Panniru Tirumurai. [Siva Sakti]They are to be translated into English and Hindi. Some European scholars and Indian savants have rendered them into English. But they are only selections from some of these Holy Books. These translations are being considered and consulted. For the first time, the Institute is addressing itself to the translation of all the books at the same time.

The above project is a five-year programme. The English version is to be published in 22 volumes, including an introductory volume. The number may exceed our calculation. Presently each book has been assigned to one translator and some of them have already sent in sample passages. As far as the Hindi version is concerned, some translators have been identified. Native professors of Hindi will be consulted before finalising the translations.

Dr. T.B. Siddalingaiah is in charge of the Department of Panniru Tirumuraikal. He was formerly Professor of Saiva Siddhanta at the Madurai Kamaraj University and had also taught at Calcutta University and Banaras Hindu University. During 1993-95 he was UGC Emeritus Fellow at the Central University, Pondicherry. The Sahitya Akademi and the National Book Trust have published his translations into Tamil from other Indian Languages. He has long been contributing to various magazines articles both in English and Tamil on Tamil literature Saiva Siddhanta and Indian philosophy. He has participated in numerous national and regional seminars on philosophy and other subjects.

For full details about the Panniru Tirumurai Project, see this article from the Sept 1999 issue of the Journal of the Institute of Asian Studies.