The Pongal 2000 Project is a collaborative undertaking of:
Department of South & Southeast Asian Studies of the University of California-Berkeley;
Institute of Indology and Tamil Studies of the University of Cologne (Germany); and
Institute of Asian Studies (India)
The project, headquartered in Chennai at the Institute of Asian Studies with Dr. Thomas Malten of the University of Cologne, Germany, as its on-site director, has created an electronic compilation of Tamil texts - the Online Tamil Lexicon (OTL) - as well as a Tamil Text Thesaurus (TTT). It is assembling a comprehensive database of Tamil literature from the early Christian era to the present coded in Roman characters and will be available to Tamil literary scholars and linguists via the World Wide Web and CD-ROMs.
During his latest three-month sojourn in Tamil Nadu, Dr. Malten trained IAS lexicographers in functions and capabilities of the Tamil language database now being compiled on the project's five-terminal Windows NT server network and interface with the proposed Tamil Virtual University. In 1997 the Institute launched its own Web site and in-house intranet called IASnet. Both have been widely acclaimed, especially as digital resources for major IAS-related projects and conferences.
Tamil Computer Lexicography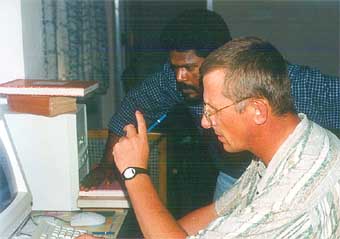 The Tamil text database developed by the Pongal-2000 Project provides the material for a new and comprehensive effort in Tamil lexicography. Computers are used to extract words and citations from all the texts, making fast and efficient lexicographical work possible. The historical development of meanings of words can also be traced more easily. To support this work, many of the major existing Tamil dictionaries have also been combined into one single database to provide the base for a number of mono- and bilingual Tamil dictionaries.
The stock of ready-to-use digitised Tamil data, containing a number of rare prose works as well as dictionaries is to be doubled or tripled during the next four years allowing computer access to all major Tamil literary works, classical and modern. An Email-based lexicographical inquiry service is being developed to complement the Online Tamil Lexicon (OTL).
More information about Pongal-2000
For further information about the Pongal-2000 Project contact project staff:
Dr. Thomas Malten
Institute of Indology & Tamil Studies
Pohligstr. 1
50969 Köln Germany

Dr. A. James, PhD in Linguistics (Annamalai University, 1990)
Area of specialization: Lexicography

M. Murugesan, M.A., B.Ed. M.Phil. MK Univ.

E-mail: th.malten@uni-koeln.de
Gopher: linus.informatik.uni-koeln.de
Web site: http://www.rrz.uni-koeln.de/philologie/index.html
ftp://ftp.rrz.uni-koeln.de/institute/indologie